Jacqueline Mallorca
Chef & Author of
"The Wheat-Free Cook,
Gluten-Free Recipes for Everyone"
Extracts from "The Future of Gluten-Free Gastronomy"
ADDRESS: 3RD ANNUAL GLUTEN-FREE CULINARY SUMMIT
Providence, RI, September 19-21, 2008, by Jacqueline Mallorca
Gastronomy is simply the art and science of good cooking, and good food, with or without gluten, is what holds our relationships together. It's a connection to our cultural heritage and family roots. It fosters our sense of belonging. Our major celebrations are all connected with special foods. And if we have to tweak family recipes to make them gluten-free, that's fine. It was the family genes that got us into trouble in the first place.
Celiac disease is serious, but least it's a condition that can nearly always be arrested by simply enjoying great food. This beats taking drugs with unknown long-term side effects any day. I look on it as having a built-in alert system for avoiding junk food.
When all is said and done, gluten-free food simply encompasses fresh ingredients that your great-grandmother would recognize as Real Food. It's a sensible way to eat, not just for celiacs but for everyone at the table.
I believe that the main problem with having to adopt a gluten-free lifestyle is that so many people, for compelling reasons, have got out of the habit of cooking from scratch. But as a result, the latest report from the US Department of Agriculture on our eating habits concludes that most of us are not meeting Federal dietary recommendations.
What SHOULD we be eating, gluten-intolerant or not? According to that USDA report, a 2,000-calorie a day menu (the precise number depends on your height, sex, age, activity levels, and so on) should include:
5 half-cup servings of vegetables; mostly leafy greens or deep colors. (Fries don't count!)
4 half-cup servings of assorted fruit. (Not fruit juices – we need the fiber.)
6 ounces of bread, pasta and grains, preferably whole grain.
A computer mouse-sized portion of protein, as in meat, chicken, fish, eggs, beans or nuts.
3 cups of milk or the equivalent in milk products like yogurt or cheese.
2 tablespoons of non-hydrogenated, pure vegetable oil, such as olive oil.
About 300 calories are left over for "discretionary" items, like cake, chocolate, cookies, or wine. If you eat more it's not the end of the world, BUT you have to work it off or deal with the long-term medical consequences. Any kind of exercise that you enjoy will do.
These guidelines involve a major re-think about the way we plan gluten-free meals. How do you 'translate' this advice into food on the table?
An oft-repeated complaint is that a gluten-free diet is expensive and fattening. Well, it would be if you limited your choices to the contents of boxes marked "gluten free". Chips and cookies were never meant to be staple foods!
It might sound insane and too time consuming, but consider spreading your evening meal out into courses. Even if you're dining alone, you deserve the best. Treat yourself accordingly! Having a "proper" meal calms you down, and you actually eat less, enjoy it more, and avoid indigestion.
This is not an elitist concept. Basically, it's good home cooking. It's only in the last 50 years that Americans have been conned by major food corporations — which spend billions every year on TV advertising — into eating ready-prepared foods, most of which are loaded with empty calories and involve a ton of packaging.
Fight back. Instead of chips, crackers and dips, put out a dish of veggies to keep jaws busy. Try lightly cooked green beans with olive oil and coarse salt. Or dust zucchini slices with rice flour and sauté in olive oil: it takes all of 3 minutes.
Next, how about a SMALL portion of whole grain, gluten-free spaghetti with a quick pan sauce of sliced onion, garlic and tomato? Or a bowl of mixed vegetable soup with gluten-free pasta spirals? Top either one with grated Parmesan – the genuine article. It's so flavorful that a little goes a long way.
For the main course, try foil-baked salmon (no clean up!), or a small hamburger with mushrooms. By this time, a computer mouse-sized serving of protein looks more than adequate. Have some chopped spinach with olive oil, currants and garlic on the side. You've already had pasta, so you don't need another starch. Alternatively, skip the pasta and enjoy a quick quinoa pilaf with frozen shrimp and broccoli. Frozen ingredients are a great standby as long as nothing has been done to them.
For dessert, how about turning bananas into instant ice cream? I'm serious. Wrap a large, peeled, chopped banana in plastic wrap and freeze it overnight. Grind in a food processor, add a dollop of plain yogurt and a tablespoon of frozen orange juice concentrate. Process until smooth, and you've got guilt-free, soft-serve banana ice cream.
The whole secret is making gluten-free food fast, but enjoying it at leisure. Far from being a tiresome chore, cooking can be a creative endeavor that brings family and friends together. Now that's a family value I can live with — grazing is good for cows and horses, but not people.
I was a food writer and cookbook author long before my celiac gene caught up with me, so yes, I had an advantage. I had no qualms at all about trying new grains and flours. Of course, not everything worked. The first time I made a rice flour baguette, it came out of the oven the same size it went in. And we won't talk about the texture. But perseverance makes perfect.
Cooking from scratch is a learned skill that puts you in charge of your life. It's also much cheaper, which is something to consider in the current economic climate.
Happily, Going Gluten-Free is coinciding with Going Green, Slow Food, and buying organic whenever possible. This is good for your health, your community, the survival of sustainable farming, and the planet.
All in all, I believe that the future of American gluten-free gastronomy looks bright.
© Jacqueline Mallorca 2008
Jacqueline Mallorca is the author of THE WHEAT-FREE COOK; Gluten-Free Recipes for Everyone (Wm. Morrow), which was selected on ABC's "Good Morning America" as one of the Top Ten Cookbooks of 2007.
Featured Recipe:
Yogurt-Rice Flour Pancakes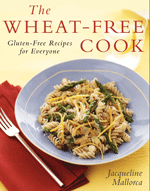 A gluten-free batter makes exceptionally tender pancakes, and cooking them on a non-stick griddle, without fat, ensures a fine surface texture. It also prevents the aroma of burned butter from permeating your kitchen. The recipe can be doubled easily.
1/2 cup brown rice flour
1 teaspoon sugar
Pinch of fine sea salt
1/2 teaspoon baking soda
1 large egg
1 tablespoon canola oil
1/2 cup plain whole milk yogurt (not the condensed Greek variety)
Combine the rice flour, sugar, salt, and baking soda. In a separate bowl, mix the egg, canola oil, and yogurt. Add to the dry ingredients and stir until smooth. The batter will look thick and puffy. Heat a heavy non-stick skillet or griddle over medium-low heat, but do not grease it. Add the batter by the heaped tablespoonful, spacing the pancakes 1 inch apart and flattening the batter a little with the back of the spoon. Cook until golden on both sides, 2 minutes or less. Stack on heated plates or keep warm in a low oven. Makes 16 three-inch pancakes.
Recipe from "The Wheat-Free Cook, Gluten-Free Recipes for Everyone" (Wm. Morrow), by Jacqueline Mallorca.
Interview:
Jacqueline Mallorca, Chef/Author of The Wheat-Free Cook, Gluten-Free Recipes for Everyone and Marlisa Brown MS RD CDE CDN Creator of Gluten Free Easy and Author of Gluten-Free Hassle Free
Marlisa: What first got you interested in gluten free foods?
Jacqueline: Discovering that my recurrent mystery rash was dermatitis herpetiformis; an unmistakable marker for celiac disease

Marlisa: What is the greatest difficulty you find in following a gluten free diet?
Jacqueline: I can't think of one. I've never felt better in my life!

Marlisa: What advice could you give to others following a gluten free diet?
Jacqueline: Stick to buying ingredients —including lots of veggies — that your great-grandmother would recognize as real food

Marlisa: What is your best culinary tip for those starting a gluten free lifestyle?
Jacqueline: Um, buy my cookbook, The Wheat-Free Cook, and discover how rewarding it can be!

Marlisa: What is your favorite gluten free recipe?
Jacqueline: Light and puffy yogurt-rice flour pancakes. Serve them with berries for breakfast, or top with smoked salmon and sour cream as an appetizer.
Marlisa: How do you find it when traveling gluten free?
Jacqueline: It's not much of a problem in countries like France, Italy, Britain and Scandinavia, where gluten-intolerance is widely recognized. But always carry gf crackers, dried fruits and nuts for emergencies, wherever you are.
Jacqueline Mallorca
1700 Broadway, #601
San Francisco CA 94109
Tel/FAX 415.441.4142
Email: jmallorca@earthlink.net
British-born food writer Jacqueline Mallorca created and wrote the first Williams-Sonoma mail order catalog, and still produces food and cookware-related copy for this now world-famous company today. She acted as James beard's West Coast editorial assistant for several years, working mainly on his syndicated newspaper column, and has produced numerous articles for the San Francisco Chronicle food section and other culinary publications. Currently an associate editor for Gluten-Free Living magazine, she has written material for a number of food and wine producers coast to coast, including California's Jordan Winery and New York's Dufour Pastry Company.
To date, she had written, co-authored, edited or illustrated twelve cookbooks. The most recent, The Wheat-Free Cook, Gluten-Free Recipes for Everyone (author/illustrator), HarperCollins/Wm. Morrow, was released in March, 2007. It went into five printings within the first five months, and by December was selected by Sara Moulton on ABC's "Good Morning America" as one of the top ten cookbooks of the year.
Other titles include:
The Olive Harvest Cookbook, with Gerald Gass for McEvoy Ranch (co-author) Chronicle Books
The Williams-Sonoma Cookbook, with Chuck Williams (text), Random House
La Nouvelle Pâtisserie, with Jean-Yves Duperret (co-author/illustrator/ text), Viking
Williams-Sonoma Kitchen Library: Cooking Basics (recipes), Time-Life
Williams-Sonoma Kitchen Library: Breads (recipes), Time-Life
The Wheat-Free Kitchen, A Celebration of Good Food (author/illustrator), Farthing Press
The Perfect Dinner, Fine Food Cooked with Foil (author), Fair Oaks Press
Favorite Recipes of Genie di San Faustino (designer/editor), Farthing Press
A Taste of San Francisco – San Francisco Symphony Cookbook (editor), Doubleday
Convection Cuisine, with Chef René Verdon (co-author/illustrator, text and some recipes), Hearst
The Enlightened Cuisine, Chef René Verdon (illustrator), McMillan
Jacqueline lives in San Francisco, and is currently working on a new gluten-free cookbook scheduled for publication in early fall, 2009.
Past Featured Authors/Chefs: