Richard J. Coppedge, Jr., C.M.B.,
Professor in Baking and Pastry Arts
The Culinary Institute of America
Author of "Gluten Free Baking"
The Culinary Institute of America
Founded in 1946, The Culinary Institute of America is an independent, not for profit college offering bachelor's and associate degrees, as well as certificate programs, in culinary arts or baking and pastry arts. As the world's premier culinary college, the CIA has a network
of more than 37,000 alumni that includes industry leaders such as Grant Achatz, Anthony Bourdain, Cat Cora, Harold Dieterle, Steve Ells, Todd English, Duff Goldman, Sara Moulton, Charlie Palmer, and Roy Yamaguchi. The college has campuses in Hyde Park, NY; St. Helena, CA; and San Antonio, TX; as well as a New York City location (The CIA at Astor Center). In addition to its degree programs, the CIA offers courses for professionals and food enthusiasts, as well as wine education. For more information, visit the CIA online at www.ciachef.edu.
Here is a link to CIA cooking classes, which sometimes include Gluten Free courses:
http://www.ciachef.edu/enthusiasts/programs/

To purchase the book online, visit:
http://www.ciachef.edu/enthusiasts/cookbooks_dvds/glutenfree.asp

The phone number for cooking classes is 1-800-888-7850. To make a reservation for any of the on-campus restaurants, call 845-471-6608.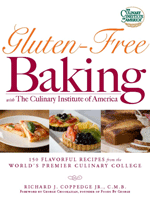 Three Featured Recipes:
When a recipe refers to albumin use 'just whites', dried egg whites. When a recipe calls for whey powder use, (Bob's Red Mills item # 1293C24).
Flour Blends (used in the following 3 recipes)

The following flour blends are used in these 3 recipes:
Flour Blend #2 (second weakest; contains a little protein and fiber from brown rice)
| | | |
| --- | --- | --- |
| Ingredients | Volume | U.S. Weight |
| White rice flour | 1 3/4 cups | 10 oz. |
| Brown rice flour | 1 1/4 cups | 7 oz. |
| Potato starch | 3/4 cup | 3 oz. |
| Tapioca starch | 1 cup | 4 oz. |
| Total | 4 3/4 cups | 1.5 lb. |
Flour Blend #3 (moderately strong; carbohydrate/protein combination)
| | | |
| --- | --- | --- |
| Ingredients | Volume | U.S. Weight |
| White rice flour | 3/4 cup | 5.25 oz. |
| Potato starch | 4 cups | 14.25 oz. |
| Guar gum | 5 tablespoons | 1.25 oz. |
| Albumen | 1/2 cup | 3.38 oz. |
| Total | 5 1/2 cups | 1.5 lb. |
Flour Blend #5 (the strongest; high protein from soy and whey)
| | | |
| --- | --- | --- |
| Ingredients | Volume | U.S. Weight |
| White rice flour | 1 3/4 cup | 9 oz. |
| Tapioca starch | 1 1/4 cups | 6 oz. |
| Soy flour (defatted) | 1 3/4 cups | 6 oz. |
| Whey powder | 1/2 cup | 3 oz. |
| Total | 5 1/4 cups | 1.5 lb. |
A variation of one of Austria's most famous desserts, these Linzer cookies offer simple beauty paired with complex flavor. With the addition of ground nuts to the batter, the finished Linzer cookie, sandwiched around a dollop of fruit jam, is both warmly nutty and brightly sweet.
Yield: 20 sandwiches (20 servings)
Ingredients:
3 1/2 tablespoons (1.75 oz.) Butter
2 1/2 tablespoons (1.5 oz.) Sugar
1/8 teaspoon Salt
1/ 4 cup (23 g) Hazelnuts, finely ground
1/8 cup (11 g) Almonds, finely ground
1 ea. Egg yolk
1/8 teaspoon Vanilla extract
1/3 cup + 1 tablespoon (2.5 oz.) Flour Blend #2
5 tablespoons Raspberry jam, seedless
1/2 cup (2.5 oz) Powdered sugar, sifted
Directions:
1. Cut the butter into one-inch cubes and, using a mixer with paddle attachment, combine all ingredients (except the flour and jam) until smooth.
2. Sift the flour blend and blend into the mixture, mixing until just until incorporated.
3. Wrap the dough tightly in plastic wrap and chill for a minimum of 2 hours before using.
4. When ready to bake, preheat oven to 375°F.
5. Roll out the dough on a gluten-free floured surface to 1/8" thickness.
6. Using a round 1 1/2" cookie cutter, cut out 20 circles of dough for the bottoms of the sandwiches. Using a fluted 1 1/2" cookie cutter, cut out 20 more for the tops. Cut a 3/4" hole in the center of the fluted dough circles (you can re-roll the insides or bake them on their own for extra cookies).
7. Bake for 15 to 20 minutes or until very lightly browned.
8. Place the cookie tray on wire cooling racks and allow to cool completely before assembling.
9. When cool, place a quarter-sized amount of jam onto base cookie.
10. Dust the top cookies with sifted powdered sugar, and place the top cookies onto the jam-filled bottom cookies.
Nutritional Information per Serving:
Serving Size: 2 cookies with jam
Calories: 60cal
Total Fat: 3g
Sodium: 17mg
Total Carbohydrate: 8g
Dietary Fiber: 0g
Protein: 0.5g
Éclairs are a delicious staple in many French patisseries and you can easily make them a staple in your own home! Pâte à choux is piped into an oblong shape, then baked and filled with a smooth sweet pastry cream before being topped with a thin layer of chocolate ganache.
Yield: Six éclairs
Ingredients:
Directions:
1. After the shells have completely cooled, slice each in half lengthwise.
2. Fill a pastry bag fitted with a large (#4) star tip with the pastry cream. Using the tip of a paring knife, create 2 holes 1" apart along the bottom of the shell. Pipe the pastry cream into each hole, until the shell feels heavy and full.
3. Dip the éclair shell tops in warm chocolate ganache and place on top of the pâte à choux shell bottom. Place in refrigerator for 15 minutes before serving.
Nutritional Information per Serving:
Serving Size: 1 pâte à choux shell with pastry cream and chocolate ganache
Calories: 320cal
Total Fat: 22g
Sodium: 530mg
Total Carbohydrate: 28g
Dietary Fiber: 2g
Protein: 7g
Ingredients:
4 tablespoons (2 oz.) Butter
1/4 cup (2 oz.) Water
2 teaspoons Salt
3 tablespoons (1 oz.) Flour Blend #2
1/4 cup (1.5 oz.) Flour Blend #3
1 tablespoon (8 g) Guar gum
4 ea. Eggs
Directions:
1. Preheat oven to 375°F.
2. In a medium saucepan bring the butter, water, and salt to a full boil.
3. Add the flour blends all at once and stir vigorously to combine. Cook while stirring constantly for 1 minute over a high heat.
4. Transfer the mixture to the bowl of a mixer and beat with a whisk for 1 minute or until the batter begins to cool. While mixing constantly, mix in the guar gum.
5. Add the four eggs one at a time while continuing to mix. The mixture may appear broken, but will come together with continued mixing.
6. Pipe the batter into the desired shape onto a parchment-lined baking sheet.
7. Bake for 10 to 15 minutes or until golden brown and crisp.
Ingredients:
3 ea. Egg yolk
2 cups (16 oz.) Milk, divided
1/2 cup (4 oz.) Sugar, divided
5 tablespoons (1.5 oz.) Cornstarch
3 tablespoons (1.5 oz.) Butter
1/2 teaspoon Vanilla extract
Directions:
1. Whisk together the eggs, 1/2 cup milk, 1/4 cup sugar, and the cornstarch in a medium bowl. Set aside.
2. Combine remaining milk and remaining sugar in a saucepan and bring to a boil over moderate heat.
3. Add approximately one-fourth of the heated milk mixture to the egg mixture, adding it in four parts and whisking constantly to combine.
4. Add the egg-milk mixture to the remaining simmering milk mixture in the saucepan on the stove all at once; continue whisking until it comes to a boil and begins to thicken. Remove the pan from the heat.
5. Stir in the butter and vanilla extract.
6. Pour the pastry cream into a wide shallow pan and cover surface with plastic wrap, pressing it to the surface of the cream to prevent the formation of a skin.
7. Allow the pastry cream to cool completely in the refrigerator before using as a filling for pastries such as pâte à choux puffs or éclairs.
8. Stir or whisk cooled cream before using.
Ingredients:
1/2 cup Heavy cream
1 1/4 cups Bittersweet chocolate chips
Directions:
1. In a small pot, bring the cream to a boil.
2. Remove from heat and pour over the chocolate chips in a medium bowl; allow to sit undisturbed for 30 to 60 seconds to soften the chocolate.
3. Stir in small vigorous circles in the center until the chocolate has combined with the cream, then stir in larger circles until completely combined.
This recipe offers a gluten-free version of a simple lean dough. Lean doughs are characteristically low in fat and sugar, examples of which are seen in crusty French breads and pizza dough. Before shaping and baking, you may add herbs, spices, grated cheese, or other additional ingredients of your choice to create variations on the standard recipe.
Yield: Two standard 8" ´ 4" ´ 2 3/4" loaves or 20 rolls (20 servings)
Ingredients:
2 2/3 cups (1 lb.) Flour Blend #3
3 cups (1 lb.) Flour Blend #5
1 tablespoon (1 tablespoon) Salt
3 tablespoons (24 g) Guar gum
2 1/3 tablespoons Instant yeast
3 1/2 cups (28 oz.) Sparkling water
6 ea Egg whites
Directions:
1. Thoroughly combine flour blends, salt, guar gum, and yeast.
2. In a separate bowl, combine sparkling water and egg whites and then add the wet to the dry ingredients.
3. Mix, using a paddle for 4 minutes on low speed or until smooth.
4. Just before shaping, consider stirring in your favorite additional ingredients—e.g., grated cheese, herbs, raisins, vegetables, fruits, or spices. Layer some of the filling as you assemble the roll or loaf.
5. Scoop the mixture into greased baking cups for rolls or loaf pans for bread loaves, filling about two-thirds full.
6. Proof the shaped product in a warm, humid environment for 40 to 55 minutes (for a reminder on how to proof, see page 00).
7. Bake in a preheated 375°F oven with some steam/moisture. Bake rolls for 15 minutes and breads for 45 to 55 minutes.
8. Once the bread has risen to the top of the pan, vent the oven (if applicable; usually just necessary in professional ovens) during the last 5 to 8 minutes. The product should be firm at the center with an internal temperature of 200°F. You can test this with a meat thermometer. If the bread is not at the correct temperature, bake for 5 minutes more.
9. Remove from the oven and unmold onto cooling racks.

Nutritional Information per Serving:
Serving Size: 1 slice
Calories: 160cal
Total Fat: 0g
Sodium: 370mg
Total Carbohydrate: 37g
Dietary Fiber: 7g
Protein: 8g
Interview with Chef Coppedge Jr., C.M.B., and
Marlisa Brown MS RD CDE CDN Creator of Gluten Free Easy and Author of Gluten-Free Hassle Free

Question: Filo, puff pastry, dumplings, where is the future for these in gluten-free cuisine?
Answer: At the Culinary Institute of America we have been successful in producing a good gluten-free puff pastry product. We have done this by reversing the general preparation technique, folding the dough into the butter instead of the butter into the dough.

Question: Are there distributors that offer gluten-free grains in bulk?
Answer: We have been able to purchase many gluten free grains in bulk. The important thing is to buy product in the quantities that you will use quickly because these grains have the tendency to spoil. When storing unused gluten-free grains it is best to store them sealed and refrigerated to delay any deterioration of the grain.
Question: Where do you see the future of gluten-free cooking?
Answer: I see it continuing to grow, and expand as the development of more products and cooking methods are available.
Question: Do you think restaurants will offer more gluten-free cuisine in the future?
Answer: Yes, as the demand increases restaurants will be providing more choices for their customers.
Question: What do you think the biggest difficulty will be in restaurants offering gluten-free cuisine?
Answer: Some restaurants, have space constraints, and changes in staff on a regular basis. Even when gluten-free menu items are available preventing cross contamination could be a problem if food isn't handled appropriately. In addition if a restaurant does not have many customers that ask for gluten-free cuisine there may be limited choices that can be selected from on the menu.
Question: Do the restaurants at the CIA offer gluten-free cuisine?
Answer: As a school all our restaurants have access to the expertise of our chefs/instructors, and a vast array of products. Although any of our restaurants would be able to provide for a customer with a gluten intolerance, calling ahead would make it possible for them to have even more selections available.
Richard J. Coppedge, Jr., C.M.B.
Professor in Baking and Pastry Arts
The Culinary Institute of America

Rich Coppedge is a professor in Baking and Pastry Arts at The Culinary Institute of America (CIA). Chef Coppedge currently teaches Advanced Baking Principles to students pursuing their bachelor's and associate degrees from the CIA. During his tenure at the CIA, he has taught various bread baking courses.
Chef Coppedge is the author of Gluten-Free Baking with The Culinary Institute of America (Adams Media, 2008). He also helped develop and provide content for the CIA's bread baking instructional video series.
Prior to joining the college's faculty in 1992, Chef Coppedge held positions in such prestigious properties as The Ritz-Carlton Hotel Company and Walt Disney World. Chef Coppedge was also the bread baker for The Dunes Club in Providence, RI and the Narragansett Bay Baking Company in Newport, RI. For 10 years he was an assistant professor in the baking program at Johnson & Wales University in Providence.
The CIA Faculty Member of the Year for 1994, Chef Coppedge is a member of the Bread Bakers Guild of America and the Retailer's Bakery Association. He received First Place for Pastry Grand Buffet, and a Silver Medal, Bronze Medal, and Judges Award at the Boston Food Show. Chef Coppedge earned awards for his bread displays at the New York Food Show from 1993 to 1995. He was a member of the CIA faculty team that won the coveted Marc Sarrazin Cup, grand prize of the Société Culinaire Philanthropique's New York Culinary Salon, in both 1996 and 1997.
Chef Coppedge is a Certified Master Baker (C.M.B.). He holds an associate degree in culinary arts and a Bachelor of Science degree in food service management from Johnson & Wales University.
Past Featured Authors/Chefs: